Ground Guards We're 100% still open for business
March 2020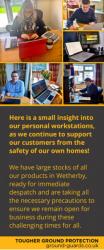 We're 100% still open for business

19.03.2020

We would like to provide reassurance that at Ground-Guards, we're relentlessly pursuing our goal: to provide innovative, high-performance and cost effective temporary access solutions, that minimise the impact on the environment!

The physical and mental health and safety of all our staff remains paramount and whilst we're adapting our procedures to give them greater protection – we are still 100% open for business! We can still offer;

Site visits – to scope out your ground protection requirements.
Virtual site visits – over video conferencing.
Installation – we can come out and install product on your site.

We will comply fully with the authorities and any measure they put in place which is why over 75% of our staff are working from home as we speak, our systems are ramped up and are well able to cope with the current situation.

We have enough stock to cover us for months, with thousands of boards here in Wetherby and can act in a matter of hours to get them picked, packed, sent out to your site.

We thank you for your support and look forward to continuing to work with our valued clients as we navigate through these uncharted waters together.

Best Regards.