CS Acrovyn Wall Protection - Royal National Orthopaedic Hospital (RNOH)
January 2020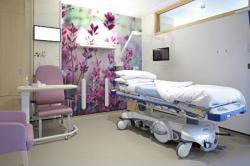 The new Stanmore Building, at the Royal National Orthopaedic Hospital in Stanmore, Middlesex, combines the latest health technology with architectural design and contemporary art to create colourful and welcoming spaces for patients and staff.

Built by Balfour Beatty and designed by architect BDP, the four storey building opened in December 2018, and replaces a number of ward buildings dating back to the Second World War. It includes a children's/young people's ward, two adult acute wards and a private ward.

There are also play areas, with a children's activity centre at the heart of the 15m high reception and waiting atrium. This features contemporary art and sculptures to create a spectacular entrance matching the state-of-the-art medical facilities.

Art is used throughout the new building, with poems taken from Robert McFarlane's 'The Lost Words', and illustrations of flowers, birds, fish and animals by Jackie Morris, adorning the corridors. There are also images from the natural world behind the beds on each of the colour-themed floors.

The positive effects of colour and art on patient wellbeing have been known for some time. Art diverts attention away from pain and stress, may lower blood pressure and may reduce the need for pain relief. Evidence suggests the sense of being outdoors also improves recovery times, while colourful murals help reduce the stress of being in an unfamiliar environment, particularly among children.

As well as providing a visually-appealing environment, surface finishes in healthcare facilities also need to be hard-wearing, hygienic, easy-to-clean and maintain. BDP specified Acrovyn by Design to incorporate behind all 94 beds in the building.

Acrovyn by Design embeds high-resolution digital prints on the reverse of clear, PVC-Free Acrovyn 4000 sheets. The sheet acts as a protective shield to the image and provides an impact- and scratch-resistant surface that is impervious and chemically-resistant, without compromising on interior design.

The images reflect the theme of nature used in the corridors and the colour of each floor. White and green predominate on level 2, blue and green on level 3, and purple on level 4. The images used on the children's ward are fun and brightly-coloured silhouettes of children playing outside.