CS Airfoil Solar Shading - Ragdale Hall Spa – Leicestershire, UK
January 2020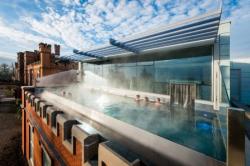 The Ragdale Hall Spa, located in the Leicestershire countryside, combines state-of-the-art facilities with the charm of traditional Victorian architecture to create one of the most luxurious and relaxing health spas in the country.

As part of a multi million-pound development of Ragdale Hall's award-winning spa facilities, a new rooftop infinity pool was added, offering spectacular views of the countryside, and a great spot to unwind. CS were approached to provide a series of Airfoil Solar Shading blades to create an architectural feature, and reduce glare through the mostly glass structure.