CS Solar Shading - St Piers School (Young Epilepsy) – Surrey, UK
January 2020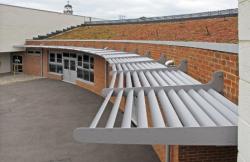 St Piers is a non-maintained special school for pupils aged 5 to 19. With state-of-the-art facilities, highly skilled staff and a warm, caring atmosphere, it's a fantastic place for children with neurological conditions and behavioural difficulties to learn new skills, grow in confidence and make new friends.

CS were approached by Interserve to supply and install Airfoil Solar Shading and Screening Louvres at the St Piers school. The Solar Shading system needed to be curved around the building to match the shape of the building and shade the classrooms beneath. The Screening Louvre was used to hide the plant machinery on top of the building, and offer a picket fence style aesthetic next to the grass roof of the building.