Expansion Joint Cover - The Mall Maidstone – Kent, UK
January 2020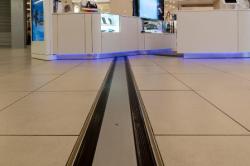 The Mall Maidstone has recently undergone a £6 million refurbishment which took 5 months to complete and mainly took place at night. Improvements include intelligent strip lighting which adjusts to the weather, white porcelain flooring and heightened shop fronts.

As part of the refurbishment works, CS supplied the GTP-300HD expansion joint cover, a heavy duty, recess mounted, flush floor cover, ideal for applications like this with intensive traffic across the joint. This robust joint cover will ensure the shopping centre can move safely and without damaging itself for years to come.