CASE STUDY Bolton Gate at ELEPHANT PARK, LONDON
November 2019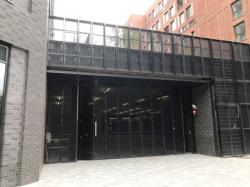 CASE STUDY Bolton Gate at ELEPHANT PARK, LONDON

Client: Southwark Council

Architect: Allford Hall Monaghan Morris

Contractor: Lend Lease

Product: Multi-Fold Gates

Elephant Park is part of a £2.3 billion regeneration project in Elephant & Castle. It comprises a mixed-use development of 3000 new homes and up to 50 shops /retail units all centred around a new 2-acre park.

Bolton Gate assisted the Architect with the design of a large Multi-Fold Gate to the Service Bay which consists of twelve equal leaves each constructed from an SHS frame with 50 x 10mm vertical steel fins and internal mesh to prevent the ingress of birds.
The gate was electrically operated with remote control and the necessary safety edges, pressure mats and light curtains to comply with Health & Safety regulations.

Matching cladding and balustrades completed the elevation all of which were powder coated black.