Construction Specialties - Interior Protection at the New Cancer Centre
July 2017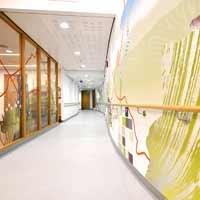 Construction Specialties - Interior Protection at the New Cancer Centre

CS Acrovyn wall protection has been used to help create a welcoming and functional healthcare environment at the new Tameside Macmillan Unit.

The recently opened Tameside Macmillan Unit offers essential treatment and support services to local residents diagnosed with cancer. The patient centred design features bespoke artwork, bright colours and natural finishes, resulting in a calming and healing environment.

To aid mobility for frail patients and create a warm, soothing aesthetic, CS Acrovyn HR6CS timber handrails were used in general circulation areas. Acrovyn crashrails, corner guards and textured sheet were specified to offer necessary impact protection to walls and corners in waiting and clinical areas.

Panasonic Heat PumpInstalled by the company's in-house installation team, Conspec Contracts, the CS wall protection package ensures the centre remains functional, damage free and easy to clean.


Resources for CONSTRUCTION SPECIALTIES - WALL PROTECTION